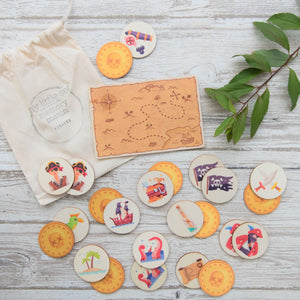 my little set
pirates & treasure map - memory match
Regular price
$26.06
$0.00
Unit price
per
Tax included.
This 24 piece memory match is themed with pirates and has pirate gold printed on the reverse side and also comes with your very own treasure map - size A6.

How to Play Memory Match: Turn all the pieces over and take turns flipping them face up 2 at a time to find the matching pair. Find all the pairs!

Story Telling Ideas: Line up the pieces as you create the story yourself or lucky dip pieces from the bag and create a story as you go. In a group setting everyone can lucky dip 3 pieces and create a funny sentence with the pieces they chose. Add a 3D element to your story and add these pieces to a play scene or sensory tray. Hide one half of the set in a sensory tray of rice or something dry and find them one by one and match them to the paired disc.

Wooden Discs - Measuring 5cm wide 3mm thin.

Each set comes in a stamped and named calico drawstring bag. All timber is FSC (ethically farmed). Timber grain will vary. All sets are made in Australia.
Not for children under 3 years of age.
---