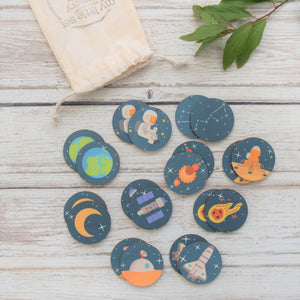 my little set
outer space - memory match
Regular price
$19.38
$0.00
Unit price
per
Tax included.
This 20 piece memory match is themed with 10 different images of outer space scenes.

How to Play Memory Match: Turn all the pieces over and take turns flipping them face up 2 at a time to find the matching pair. Find all the pairs!

Story Telling Ideas: Line up the pieces as you create the story yourself or lucky dip pieces from the bag and create a story as you go. In a group setting everyone can lucky dip 3 pieces and create a funny sentence with the pieces they chose. Add a 3D element to your story and add these pieces to a play scene or sensory tray. Hide one half of the set in a sensory tray of rice or something dry and find them one by one and match them to the paired disc.

Wooden Discs - Measuring 5cm wide 3mm thin.
Each set comes in a stamped and named calico drawstring bag. All timber is FSC (ethically farmed). Timber grain will vary. All sets are made in Australia.
Not for children under 3 years of age.
---