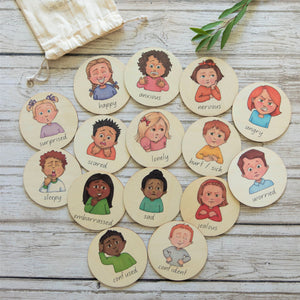 my little set
emotions - mega
Regular price
$32.74
$0.00
Unit price
per
Tax included.
This 15 piece story tellers set features 15 different emotions.

Play Ideas: Talk through each emotion and practices saying their names, making the corresponding facial expressions and talk about events when you may have felt these emotions and what you did - eg. reach out for help, laugh etc. You can also talk about future events and how you might feel about them and how you might act.

Each set comes in a stamped and named calico drawstring bag. All timber is FSC (ethically farmed). Timber grain will vary. All sets are made in Australia.
Not for children under 3 years of age.

Made from timber 10cm wide & 3mm thin. 
---